Simon Neale, AKA Shadow Child, has a storied resumé within the world of electronic music that speaks for itself. With two insanely successful projects under the aforementioned alias of Shadow Child, and Dave Spoon before that, introducing the UK house legend at this stage should be an unnecessary task. Unlike many dance music legends, the Portsmouth native has always been able to reinvent his sound and maintain relevancy in a scene that's evolving by the minute.
With a brand new release on Food music of two wonderfully intuitive tracks; 'Ooh Tune' and 'Higher', Shadow Child is obviously not yesterday's news. A quick glance through his Rinse FM shows and you'll see that while his music may still have modern cutting edge, but his acute knowledge of an array of genres is what keeps his creative juices flowing, not just an adherence to trends.
From listening to your two upcoming tracks, they're definitely more upbeat in comparison to some of the earlier Shadow Child material. As a whole, the Shadow Child 'brand' has become that bit more upbeat would you agree?
I think times have changed and the music people are listening to has changed too. I've been writing so much music over the last year and not really been quite too sure whether to put it out, at least until I had one track that I felt had my character in it, the 'Ooh Tune' is one that has the character of some of the early Shadow Child stuff in it but, like you say, it's a little bit more fun.
This whole tech house thing is massive and it's not something that I really attach what I do to, nor do I really want to go down that road too much. Equally, you can't deny that everyone's loving that sound. Things change, they twist and move within the styles and I wanted to put out a record that could fit with that but wasn't the same as everybody else's, that was the hardest thing to do really.
For me to carry on doing what I was doing for the last five years was not going to work. I love the legacy that this project has got, but it's definitely not going to work for anyone else, or grab anyone's attention if I put out another '23'.
The drums within this release are somewhat lo-fi sounding, was that intentional?
I like the fact that people are questioning whether they are or not, but there was no intention to do that. What I will say is, I've been buying stacks of vinyl again in the last 18 months for my radio show. Anyone that listens to my radio show will know that I never really stick to one thing, I just buy music and play music that I love on there. There's no point in me playing an hour of the promos I get sent, because every fucker has got those!
One or two of those, yeah obviously, they're great records and I'm trying to support people but it's far more exciting to me to try and find something new that'll make people go 'oh what is that?'. That music for me is on vinyl. A lot of that sound is that kind of lo-fi house stuff and it's not as far as you might hear from Ross From Friends. I'm not trying to do that, but I have to change and move with things a bit, and for me, that sound is far more interesting than what everyone is calling tech house.
There's a lot of people dissing tech house, and I'm not doing that, there's actually some really good music around. That sound is less me than the lo-fi stuff. Really I have to please myself when I'm being creative.
You had Deejay Astral and Rimbaudian, two producers associated with the lo-fi scene, do remixes for you recently and that somewhat highlights how well in touch you've kept with how electronic music is developing as a whole.
I'm not trying to jump on anything, I believe this project is still its own thing, but people's attention moves into other areas and you can't stop that happening. It happened when I sprung up with this project; people's attention sprung from whatever that was going on before onto this, there was a new generation that made house music what it is; as in the crowd, the punters.
That's what's happening again, it has to happen, I don't have any issue with that at all. There's a little bit of a split at the moment, like we said, with the tech house thing and the elrow parties and then you've got these other guys doing, what is for me, something quite exciting. Some of the music isn't produced that well but its got such a vibe to it that it almost is a bit of an antidote to whatever else is going on. I just love what those two guys  [Astral and Rimbaudian] are doing. Getting those two boys involved was wicked! Sometimes you've got to offer people something new.
This year as well, I've eased off on doing too many DJ sets because I felt like I was doing a lot of the same stuff on a lot of the same lineups that I've been on the last few years and I just didn't want to continue doing that. I want to explore other things and this is part of that.
With your Rinse show you have such a platform to push different sounds, from jungle to garage, with Mumdance doing something similar too. When you see you or Mumdance on a poster you're not quite exactly sure as to what you're going to play because of your Rinse shows, are you glad that you mightn't be as easy to pigeonhole?
That's exactly what I do with my Rinse show, if I'm digging it, I'll play it, I'm not really worried about it. For me to go on Rinse and play house for two hours, the same music that I'd play in a DJ set, is not interesting. At the same time, there's a lot of people that're into what I do and what I've done over the years that might scratch their heads but I kind of like that.
If I have a guest mix like I did with Coco Bryce doing Jungle, there might be someone who's not really paid any attention to that music before that might hear one record in that mix or the whole thing, and get into that type of music as well as techno or whatever they're into. That's what I want to do because they're the moments that I had when I was a lot younger.
With my DJ sets, when I play out, I'm probably not as brave as someone like Mumdance because the lineups I'm on, people are really coming for house music. As much as this [music] is a creative thing that I love doing, it's also a business and I've got to keep people happy. I've got maximum respect for people like Mumdance and a lot of those DJs that can really just play what they want.
It's interesting to see with you because you've seen two sorts of eras. At the moment, it's very based on the product you're bringing to the table, rather than much of an emphasis on creativity. Is it hard to stay creative within that business model? 
Yeah, it is hard, because business and creativity don't really go together too well in music, it's all about trends and that kind of thing. Coming back to elrow for instance, I did the elrow thing that was in London recently and it was great and what they're doing is incredible and why wouldn't they do what they're doing? It works. Elrow isn't the first promotion to do this sort of novelty thing where a lot of the crowd will come not just because of the music and it's not the first time that that's happened.
It was the same in the 90s in Ibiza, at that point the music had reached a ceiling with creativity and it's kind of the same at the moment; there are some good records around and great DJs that play at elrow but [with the] people that're excited about it, a lot of the time it's the party and the spectacle. Fine, but if you're someone that looks to push some boundaries and try different things musically you can't fit into that world so easily. They're already got what they're about, they do what they do and it's a success, why would they need someone to come on and be a little bit more 'out there' in comparison to those other DJs.
Part of me is thinking, that's what's going on, that's where this project needs to be, the other side is like, this is something they're not going to reach for at the moment because it doesn't quite fit. If I was someone who just went for those kind of moments to try and fit in, my early music especially, the things that people still talk about, would never have happened, I would've just been following whatever the big thing is.
I might not be so brave in my DJ sets, but in the studio I'm always searching. Whether it be something like the 'Ooh Tune' with a bit of fun in there, rather than just loops and build ups. To me it's a bit more exciting.
The one thing that you can definitely hang your hat on in terms of DJ sets is the old skool sets that you've been playing this year. 
The reason I did them was because I wanted to try and move on a little bit and not do exactly the same lineups that I've been doing for a while. Occasionally, one of those lineups might come up that I mightn't really fit right now, but that I'd still like to play at, so I decided to play at them but to do sort of a throwback set. I do it on the radio every week, I play old music because I think it's important, but I don't want to dwell on that too much, especially with the audience I have right now, a lot of people don't realise that a lot of those records are twenty years old.
When I say old skool, it might not always be old school rave 1992(!). It's broader than that to me; it could be house, jungle, whatever. I played a jungle set in fabric's room 1! I'm good friends with Spy and he asked me to do it for his launch. I was like 'Fuck yes!', why would I not want to do that?! I played all the original vinyl like I was 17 in my bedroom again and that to me was like an unexpected big box to tick.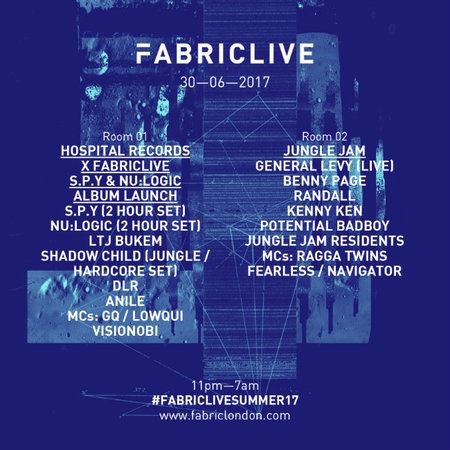 It's at a time this year where I'm trying to make people see that I'm trying to move on creatively, I just wanted to go have some fun really.
The amount of album artists around in electronic music is slim to one, but seeing the likes of BICEP put such effort into theirs and then have it rewarded with such big slots at festivals and the likes of Warehouse Project, are we seeing good music and effort being rewarded? 
I think with BICEP, I'm sure that it's very uncalculated, it's just a really great time for them to do what they have done. I think it's a time where there's not much going on album-wise because everyone's obsessed with Spotify, again like elrow and tech house, that's where it's at and you've got to think of the people. I think everyone's attention has gone on the playlist rather than on a great album, so what you can say is that by them doing that, it's a huge contrast to what's going on and I think there's a certain crowd out there that're probably a bit sick of the current way things are going. There's always a backlash out there somewhere. This is kind of the punk element to it! What they've done has happened at exactly the right time. If you're not on the elrow or tech house thing, it's the BICEP album really and I think that sums up this year.
It is hard, [my album] was six months late at the end of last year for reasons that were behind the scenes. It's good fun to do, it took a long time to get together and for me, it was a bit of an experiment musically. There's some good four to the floor bits on there, but there are some bits with Bodhi that're more 'listen to' tracks. I probably did it at a weird time, business wise, but creatively it's great.
I have to appreciate the fact that what I did, it started off with this project, it started off in a place that was quite cool. My project before [Dave Spoon] did really, really well and became quite big, but it was never a really 'cool' thing. The Shadow Child thing was a proper cool thing when it started off and hadn't experienced anything like that, but again it became quite big quite quickly.
I did some remixes that a huge proportion of my fanbase love me for, those vocal-y remixes. That really took it away from that side. It wasn't the mainstream but it was the mainstream side of it. When it comes to doing something like making an album, for me to just thrash out a vibe, whether its on my own or on a collab with say, Bodhi, it's such a relief. There's A&R man that's asking you to do a remix and telling you you need to use the chorus, there's none of that bullshit that you get, it's just pure you. I don't care whether 20 people hear them tracks or whether they make you 20 million pounds, sometimes you just need to get that creativity out of you.
Shadow Child plays the Button Factory on the 19th of January with support from Icarus, get involved on the event here.
Words: Cóilí Collins